Hello! Welcome to the Labour Housing website.
The purpose of the website is to provide information about the Labour Housing Group, the development of the Labour Party's housing policies, and campaigns related to housing issues.  It will be of interest to Labour Party members and supporters and to others interested in housing policy. 
ONE NATION HOUSING POLICY
LHG LAUNCHES ITS 50 POINT PLAN AT LABOUR CONFERENCE
By LHG Chair, Kerry Pollard.
Labour Housing Group launched its '50 Point Plan' called One Nation Housing Policy at a well-attended fringe meeting at Labour Party Conference on Sunday evening, held jointly with the Labour Finance and Industry Group.
The plan - a blueprint for housing over the next parliamentary term and beyond – can be read here.
The keynote speaker at the fringe meeting was Catherine McKinnell MP, shadow treasury minister (second left in the picture), together with  Mike Roberts of LFIG (right) and Jacky Peacock of LHG (left) and Chair Paula Hirst.
In her address, Catherine reminded us all that LHG should rename its blueprint '49 Point Plan' as Ed Miliband had announced the scrapping of the bedroom tax!
She went on to say that housing was at the heart of Labour's thinking, talking of building 200,000 homes each year – 1 million over the life of the Parliament, providing not just the homes, but jobs, apprenticeships and playing a significant part in reviving the economy nationally and at a local level. Also affordability was key, it was no good building homes that people couldn't afford, at the same time significantly reducing the benefit bill – the benefits to bricks policy. She also talked of unlocking the money that some of the large institutions had to invest in new housing stock.
Mike Roberts drew our attention to the major role that local authorities could play in this new housing initiative, they were best placed in knowing their communities, had drawn up the planning briefs and could themselves build again. He painted a dire current picture of hugely increased rough sleeping, waiting lists increasing and, in his own area, the use of redundant barrack blocks to temporarily house families. Further, he said his group had had quite positive meetings with some of the financial institutions.
Jacky Peacock (pictured below) stressed the need to take borrowing for house building out of the Public Sector Borrowing Requirement ( PSBR), no other country includes it, doing this would at a stroke enable sensible long term investment based on the security of the housing stock not on the rental stream   – much more attractive to institutional investors – it really is that simple!
There followed a good and informed Q & A session with contributions ranging across the whole spectrum of housing from funding, development, management and tenure.
The overriding message was that the incoming Labour Government had a golden opportunity to build 1 million homes, to provide jobs, apprenticeships, enabling our young people to live in decent affordable homes and scrap the bedroom tax – a winning combination.
The meeting took place at Friends Meeting House in Brighton.
Photos by Emma Burnell.
Follow LHG at @labourhousing and London LHG at @lhglondon
LHG SUMMER NEWSLETTER
Read the Summer Newsletter here with articles on LHG's 'One Nation Housing: 50 Policies for Labour' document, report from the Summer Conference in Manchester with Jack Dromey MP and Councillor Jim Battle, and changes to membership administration. 
'ONE NATION HOUSING: 50 POLICIES FOR LABOUR' PUBLISHED BY LHG
LHG has published its policy paper '50 Policies for Labour' based on debate at its conference held at Manchester Town Hall in June 2013. The Conference, addressed by Jack Dromey MP and Councillor Jim Battle, and chaired by LHG Chair Kerry Pollard, considered draft proposals put forward by the LHG Executive Committee.
JACK DROMEY MP, Shadow Housing Minister, addresses the LHG Policy Day in Manchester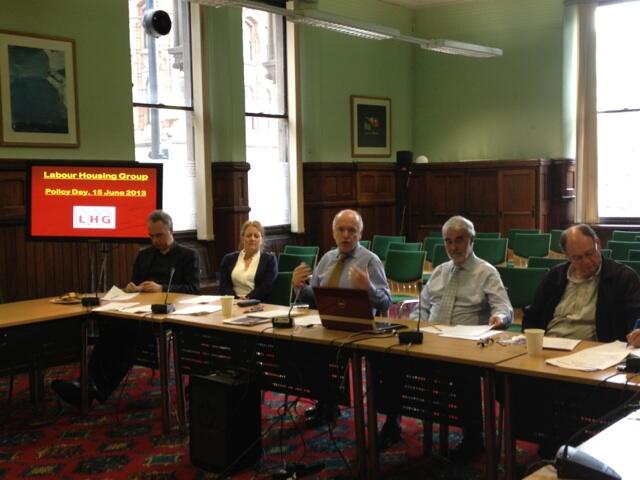 LONDON BOROUGH ELECTIONS - MANIFESTO PROPOSALS FROM LONDON LHG
London LHG has produced a policy paper to help local Labour Parties put together their Manifestoes for the 2014 borough elections, following a highly successful conference held in April 2013.
 NEW CONSTITUTION
LHG's constitution was revised at a Special general meeting held in Manchester Town Hall on 15 June 2013. The new constitution can be found
here
.
LHG on-line
Please help promote LHG and LLHG on-line. We are keen to make sure that the FB pages and the Twitter feeds help everyone who is interested in campaigning on housing issues to know what is going on and to share information. Many thanks to those of you who have already shared or re-tweeted our stuff – that is the way we will grow.
Follow the Red Brick road
Red Brick is a housing blog edited by LHG Members Tony Clements and Steve Hilditch as a housing policy forum open to anyone interested in progressive debate about homes, housing and communities. You can read it here:
It is linked to the Labour Housing Group but the views expressed are those of individual authors and are not necessarily the view of LHG.
To follow Red Brick the easy way: sign up for email alerts for new posts (Between 2 and 4 a week). Just put your email in the box on any page.
You can also follow LHG and Red Brick through
Red Brick is a
"superb blog analysing social housing policy".
The Guardian
London LHG on Facebook.  Please 'like' our page and recommend it to your friends. 
London LHG is also on Twitter.  All the latest London Labour housing news.  Follow us at 
@lhglondon
NEWS FOR CURRENT MEMBERS
Given the high cost of postage it helps us keep our costs down if we can communicate with members electronically. Please make sure we have your email address - just let the Secretary, Paul Eastwood, know what yours is.